Coming Soon: Remote Master Hydro E-Brake
In the coming weeks we will be adding a revised option to our original Billet Hydro E-Brake unit. We figured a few details regarding this product should be served up.
The Remote Hydro unit can serve many purposes and makes the standard unit a bit more customizable in its application. With the Handle and the Master Cylinder mounting separated, brake line routing, tunnel interference and seating position problems can be addressed.
---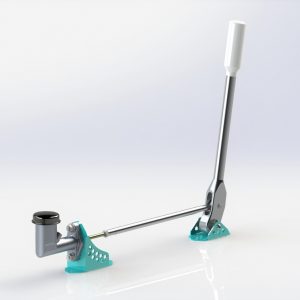 ---
The assembly now consists of two sub-assemblies; the Actuation Handle and the Master Cylinder. Instead of the Handle linking directly to the Master Cylinder via rod end, an intermediate Linkage is used to mate the two.
The length of the Linkage mating the Handle to the Master Cylinder is determined upon installation of the unit. This length will depend on how far the Master is mounted from the Handle. Stainless threaded Inserts accepting the Master Cylinder rod and the Handles' rod end are welded into the stainless Linkage tube.
The threaded Inserts necessary to construct the Linkage will be included with the Hydro E-Brake but the tubing in which they will be welded will only be included upon custom request. Being that the Linkage rods' length is infinitely variable it is something that we feel can only viably be supplied upon request. Shipping a long arbitrary length of tube seems a bit wasteful.
We chose Stainless for the Linkage components as it is typically easier to weld than the alternative, Aluminum. With stainless we can also attain the same rigidity as Aluminum with smaller sized components.
---
---
At the handle end shown above, the threaded Insert can be seen. The joints between the threaded Insert and the Linkage tube will have to be welded during the installation process.
We are on the fence in regards to retaining the female rod end used in the standard unit or switching to a male rod end as shown above. Switching to a male rod end in the Handle will simplify the Linkage tube as the Inserts in either end will be identical. The downside of this is that clearance within the double shear joint on the Handle will have to be addressed by turning out custom slim jam nuts.
---
---
At the Master Cylinder end of the Linkage, a female threaded Insert will be welded into the Linkage tube. The Master Cylinder mount features a very similar rigid stainless Mounting Cage as found in our standard unit.
The renders depict the stainless Mounting Cages in a very hip, sea-foam-esque teal finish. These units will come in the polished raw stainless finish. However, custom powder coating of the cages can always be requested.
Stay tuned for the product release for these Remote Mount E-Brake units!